DIY WEDDING INVITATION PACKS
Get creative and put your own stamp on your wedding invitations.
Save some money and have some fun!
We understand that when you are in the process of picking your wedding services your budget is a massive consideration. One of the ways you can save money and have a lot of fun in the process, is to make your own wedding stationery with one of our "DIY" wedding stationery kits.
You can benefit from our experience and have access to our designs yet at the same time have the freedom to put your own stamp on your design by putting the invites together yourselves.  There'll be no need for you to do any time-consuming type-setting, printing or card-trimming as we do all of that for you.  All materials are supplied for you.. all you will need is a craft mat and maybe a hot-glue gun.
All you need to do now is choose your favourite design from the website .. order a sample in the usual way and we go from there.
Card and Paper
All of the card and/or paper will be cut to size.
Wording
All your wording will be pre-printed onto your stationery.
Materials
Any Ribbon and Embellishments necessary are included.
Get Creative | DIY Stationery Kits
Get in touch for a bespoke quote for a personalised "make-your-own-wedding-stationery" kit and we will send you a FREE guide to help you get started.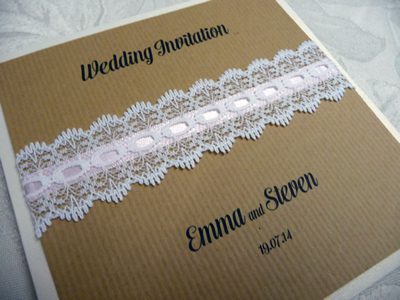 RECEIVE A FREE DIY WEDDING STATIONERY GUIDE
Before taking the plunge, make sure you get our FREE essential guide to creating your own wedding stationery. In this guide we will give you all you could need to know on how to get organised, use simple techniques and whilst adding your own personal touches to your favourite wedding stationery styles.
SIMPLY FILL OUT THE SIMPLE EMAIL FORM AND WE WILL FORWARD YOU YOUR FREE GUIDE.