What is Foiling?
You may have seen throughout our website that all of our designs can be further personalised by Foiling your Wedding Stationery.  Have you heard about foiling, also referred to as "Foil Blocking", "Hot Foiling" or "Foil Stamping" but want to learn more?  Then you're in the right place .. read on to find out more about foiling your wedding stationery.
Foiling is a specialist print technique that involves the application of metallic foil onto paper and card.
Every wedding stationery order will require an individual "stamp" (also referred to as a "foil block" or "foil die").  The stamps are made out of metal and are designed to fit onto a special printing press.  The foil is heated up so when the card is run through the printing press the stamp will press the foil onto each piece of card one by one.  This is referred to as a "foiling run".
This technique is a wonderful way of adding a very special, personal touch to your stationery.
You can re-use foil blocks on different elements of your wedding stationery order.  If you order a block with your initials on these can be incorporated onto your Save the Dates, Invitations and Orders of Service.
Inspiration
In terms of wedding stationery there are lots of different ideas and ways of incorporating foil work onto your designs.  Below are some ideas to help inspire you:
Wedding/Evening Invitation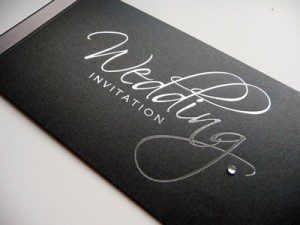 Your names (and wedding date)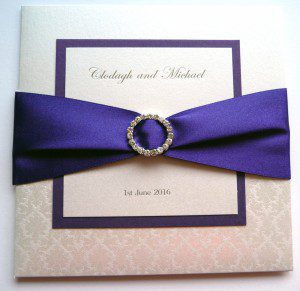 Artwork  (ie. Spots / Damask Pattern / Lace / Paisley etc …)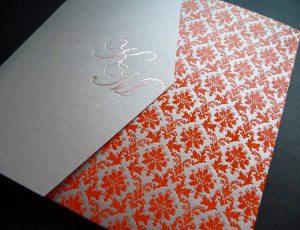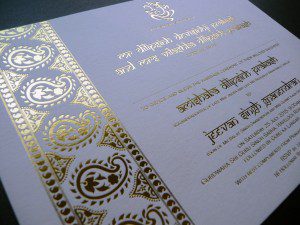 For a more striking result you can combine foiling with embossing (also referred to as "letterpressing") which will create more of a 3D "bumpy" effect on the card.  This technique works best on heavier card where the indentation can be greater with a more effective result.
You may also choose to have a letterpressed design without the use of any ink – this is called "blind embossing" and is only really worthwhile attempting on heavy card.  I wouldn't recommend having an entire wedding invitation blind embossed but it would be an effective, yet subtle, way of incorporating a particular aspect of your design onto your stationery.
There are literally 100's of different uses for these techniques – please contact me for further information or advice.
Things to Consider
You can only foil in one colour per foiling run.  For example – if you wanted to order a design where your names are foiled in silver and the rest of the wording is foiled in black then you would need to buy 2 separate stamps and pay for 2 separate foiling runs through the press.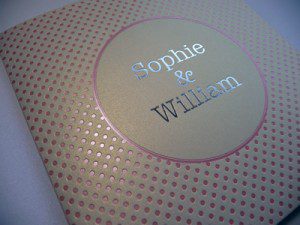 A popular choice that people make is to have just 1 stamp made with their names or initials on with their wedding date below .. by doing this you will be able to reuse the same stamp on other items of stationery like your orders of service or menu cards.
Some of our designs already incorporate foiling work with stamps that we have bought in the past.  In most of these cases you won't need to buy foiling stamps as we already have access to them.
Foil Colours
The most popular colours that are used for foiling for wedding invites and stationery are metallic silver and metallic gold, but there are lots of colours available like "cadburys" purple or orange and also including less shiny colours like pearl, black, mint green and baby pink.  See below some examples of the same design with different coloured foils.  Depending on your specific colour scheme the effect can vary a lot from design to design.
How to Order
The ordering process is very similar to that of my non-foiled designs but with an added element in terms of ordering your foiling stamp and booking the foiling print run in on the printing press.
1. Decide what you would like foiling (the wording and/or artwork) and how many copies you need.
2. I will confirm the cost price of the foiling stamp and the printing run.
3. A 50% deposit for your order will be requested before going ahead.
4. Upon receipt of your deposit payment I will order your personal foiling stamp and book your job in for printing.
Please note that only generic samples or non-foiled versions of your chosen design are available prior to ordering.  All artwork and proofs will be prepared in pdf format and you will need to try and visualise your chosen design in foil instead of print.  Samples of foil colours are available to choose from though.
Foiling can be added to all of our designs.  If you contact us with your ideas then we will be able to advise you further and provide a quotation.
If you would like us to design you a personal motif / logo then please contact us for details.