How we help you create the best wedding stationery quickly, easily, and under budget
If you and your partner are looking for the best stationery for your wedding, you're often spoiled for choice. Wedding fayres, wedding magazines and pop-up ads on every website and social media page make it easy to become overwhelmed by choice, and when planning your special day, you know that designing your wedding invites is just the tip of the iceberg!
If you're feeling stressed about choosing your invitations, come into the warm embrace of Idodesigns and we'll guide you through every step of the way until you and your partner have the perfect designs ready to send out to your guests and set up at the venue.
What makes us different?
Designing stationery from scratch can be tricky, and many couples choose 'off-the-shelf' designs just to make things easier. We make the process as easy as possible (often easier than shopping around for an existing design!) by using a number of resources:
This is an obvious one, but we have extensive wedding stationery galleries for every type of invitation, from save the date cards to menus and many more! By browsing these you can see lots of our designs we've created in the past and choose your favourite inspirations. All of our designs can be created to incorporate your colour schemes. Our social media pages are also a great way to view some of most recent makes. Our Facebook is I Do Designs and our Instagram is idodesigns_uk!
Until you see our galleries, you may not realise how many types of invitation there are. Once you find the perfect one, all you have to do is tell us and we'll handle the rest!
Certain fonts suit certain types of invitation, so knowing which one suits best is important when creating the ideal design. We have a downloadable PDF with all the fonts we regularly use, with their names and examples. If you can't choose one or aren't sure which is best for your wedding invites, get in touch for some expert advice. We have 100's of fonts available so we can help guide you in the right direction.
Similar to our font guide, we have a number of downloadable documents that give examples on the best wording for every kind of invitation. It's important that no information is missing, and the correct wording will prevent any confusion for you and your guests.
We also provide a spreadsheet for guest names and addresses. By filling this out and sending it to us, we will ensure that they all fit and are added to the invitation without damaging the design.
Finally, we have another spreadsheet for Guest Lists and Table Plan wording. This makes these essential pieces of stationery clear for you and your guests, helping you manage them better before and during the big day.
Potentially the most important feature we provide is our budget calculator spreadsheet. Simply fill in the quantities you need, and you'll be given a clear total so you know exactly what everything will cost before making the final decision.
If the quantity you need is too expensive, you can get in touch with us to discuss what you need and how we can help you match your budget. Often our customers order more than they need, so there's always a way to reduce the cost of our custom designs by reducing quantities or changing the materials without compromising the overall look. You can also assemble your wedding invites yourself (more on that later!).

Here is our Budget Calculator Spreadsheet! All you need to do is enter the quantities you need and the rest is done for you! 
Once you've chosen the perfect design, you can order a free sample of any of our wedding invites or other stationery. Seeing them in person is essential before you make the final decision, so having plenty of time to order samples and make any changes is just as important. Get in touch with us today to order or learn more on our Request A Sample page.
Do-It-Yourself Wedding Stationery
If you've had to tighten your belt for your big day but there's a design you're in love with, you'll be glad to know there's another way to get the perfect stationery!
By putting the stationery together yourself using one of our DIY Wedding Stationery Kits, you can save time and money. We guide you through the process and still handle all of the typesetting, trimming, and printing so you don't have to.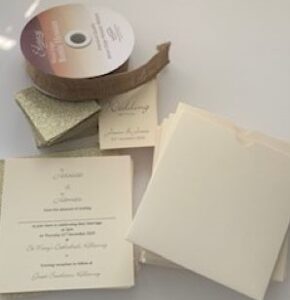 These kits are the best way to add a personal touch to your wedding invites and stationery without needing any previous art and crafts experience. We provide all the materials; all you need is a craft mat and tape gun (depending on the design) and you can get started.
As well as being more affordable, putting together your own stationery can be a fun activity for you and your partner, you could even get the whole family involved!
To get started, get in touch with us or check out our DIY Stationery guide to find out more!
What are you waiting for?
Summer is the most popular wedding season, so now is the perfect time to start planning your own in time for next year. With all our resources, look no further than Idodesigns to create the perfect wedding stationery.