Wed2B Blog Collab – 5 key things to include on your wedding invitations
We opened our emails a few weeks ago and found a very nice surprise inside! The fabulous Wed2B had created a brilliant wedding planning checklist and wanted to create an article for us to share with you lucky people.
No matter how soon you start planning, their checklist will help you get everything ready – including invitations! They really know their stuff, so sit forward and enjoy this collaborative blog:
5 key things to include on your wedding invitations
Your wedding day is a celebration of love, commitment, and family. It's also the perfect opportunity to showcase your style and personality. Your wedding invitations, therefore, play a crucial role in setting the initial tone and conveying the details of your big day to your guests. Selecting the right design and wording can be daunting and getting invitations sorted is a big thing to tick off your wedding planning to-do list, but worry not. In this blog post, we share key things to include on your wedding invitations to ensure your guests get all the information they need and your special day is unforgettable.
Date, time, and venue
It's essential that the guests get a clear idea of when and where the wedding will take place. Make sure to include the date, time and location of the wedding ceremony and reception.
In today's digital age, wedding websites have become a staple for couples getting married. The convenience and ease of utilising a website for RSVPs and more has certainly contributed to their growing popularity.
But it's not just practicality that's drawing couples in, it's also about personalisation. With wedding websites, couples have the freedom to choose their own themes and designs to match the invites, and even include their love story. It's a chance to showcase their individuality and share the excitement of their big day with the world. Additionally, wedding websites can serve as a hub for information, providing guests with everything they need to know about the wedding in one place – ideal if you have further details you want to provide than those on the invite itself. You could even include a QR code to take people straight through to the site.
Dress code
Whether you use a website or not, most wedding invitations will include a dress code to ensure guests come appropriately dressed. Examples include "black-tie", "formal attire", "cocktail attire" or "casual". Make sure to give detailed guidelines on the expected attire and make sure it aligns with the theme of your wedding.
RSVP information
It's essential to include information on how to RSVP on the wedding invitation. This can be done in a separate card, email address, or a phone number. Make it clear to guests the deadline for the RSVP and who they should send it to.
It can be frustrating and overwhelming for both the couple and the guests if they have to contact each other back and forth to confirm their attendance. Including your RSVP details provides everyone with necessary information in one convenient spot.
Gift information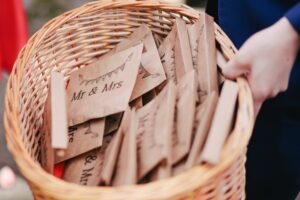 Gone are the days when registries were the go-to source for wedding gifts. In the age of social media, couples are no longer restricted to traditional gift options. From crowdfunding to alternative registries, couples are getting creative with what they ask for. With so many options available, it's no wonder that wedding registries are taking a back seat.
In fact, some couples are even opting to forgo gifts altogether and requesting guests donate to a charitable cause instead – whatever you choose, make sure you let your guests know. While the registry may not be as popular as it once was, the sentiment behind it remains the same: a celebration of two people joining together in love.
Social media guidance
With the ever-increasing role of social media in our lives, it's important to consider including social media guidance on your wedding invitations. This can help set expectations with your guests on what kind of posting is acceptable and ensure that everyone is on the same page. By doing this, you can help create a relaxed and enjoyable atmosphere, where your guests can connect with each other and enjoy every moment of your special day.
Your wedding invitations are your guests' first impression of your special day, and it's key to get it right. By incorporating these essential elements in your invites, you're sure to give your guests the information they need and showcase your style and personality. Remember, keep the design simple and elegant, and stick to the theme and colour scheme while choosing the design. With just the right combination of information and aesthetic, you're all set to start creating unforgettable memories on your big day.
Thanks Wed2B!
There is a lot you can include on your wedding invitations, but if you use a good checklist, you'll get everything perfect in time for your special day.
We hope you enjoyed this blog, and big thanks again to Wed2B for writing it!
If you have any questions about us, what we do, or how we do it, please get in touch.
We look forward to hearing from you!