Ideas for creating the perfect "Wedding Breakfast" Menu
Why is it called the "Wedding Breakfast"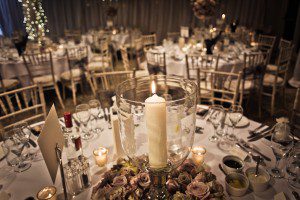 After your ceremony you may invite your guests to a formal meal which is traditionally called a "Wedding Breakfast".
Why is it called a Wedding Breakfast?  It's your first meal of your married life… as is the breakfast the first meal of your day. Some people choose not to use the word "breakfast" but it's a personal choice.
I thought I'd do some research and find out some more information about the origins and history of the "Wedding Breakfast". Most sources claim that the bride and groom may have traditionally fasted on the day of their wedding.  This meant that their first meal, directly after the ceremony, would "break the fast".
Set Menus
A lot of wedding venues insist you choose your meal from a limited selection of set menus.  You will most often choose one starter, one main course and one dessert (plus usually a vegetarian option).  This set menu will be served to all of your guests.
This is certainly the most straightforward option for you .. even if the decision making process takes a little longer. You can either choose your favourites from the menu or may opt for safer choices.  It's your wedding so you do what you feel most comfortable with.
You should always request that your guests let you know of any special dietary requirements with their RSVP.
Offering your guests Menu choices
Some venues and caterers are happy for you to offer your guests a selection from which they can choose themselves.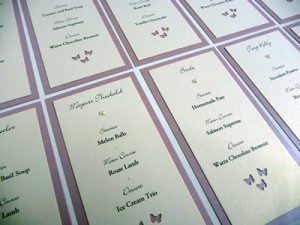 Prior notice will be needed for your caterers.  Caterers will want all of the individual options to ensure they order in enough ingredients.
The decision to offer your guests a choice of meals will add quite a lot of work to your wedding planning.  Think about it carefully before going ahead.
I Do Designs have dealt with menu options many times over the years and we have plenty of experience and advice when it comes to getting the wording right for your invitations and RSVP cards.
How we can help you to incorporate Menu options into your Wedding Invites:
We will request all of the menu wording from you – provided by your venue/caterer.
Once we have the wording we will prepare your proofs which will be formatted to fit in with your invitation theme.
On the RSVP card we will include space for your guests to note down their preferred menu choices.
We need to allow adequate rows on your RSVP for each of your guests to be able to select their menu options.  We will need to know how many invitations are to 1 guest, 2 guests etc.
Once you have your Menu Choices back from your Guests
Download the following spreadsheet.  This has been designed to help you record your guest-list and their menu choices (check the correct worksheet tabs at the bottom).
Guestlist & Menu Options Spreadsheet Template
You will need to send the menu options of each of your guests to your venue/caterer.  Check their deadline dates and remember to allow time for chasing people up.

You can opt to have everyone's personalised menus printed onto placecards on the tables. There is a small added charge for this printing service and different designs and ideas are available. I think it's worth doing because it's is a good way of reminding your guests of what they ordered.  Hopefully they will help to keep the service running smoothly for you too.
Bit of Advice
If you are not offering your guests a menu choice then don't include the menu information on your invitations. This is because you'll be opening yourselves up to complaints and special requests from your guests. No matter how hard you try and pick a menu that everyone will enjoy some people may not be happy with your choices so by not giving them any warning you won't get anyone moaning at you!
---
If you need any further advice or help with this please contact us directly.
---
Which invitation styles work best for including your Menu options?
Including menu options with your invitations does take up quite a lot of space.  I would recommend either a cheque book (with a minimum of 3 pages) or a pocketfold style invitation. You could opt for a more simple invitation design but you would have to add an RSVP card to your order.