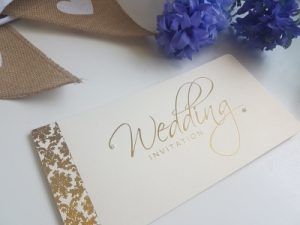 Our Cheque Book wedding invitations are a contemporary and modern alternative to some of our more traditional styles.  All of our Cheque Book invitations feature a front cover, 2 pages inside and a back cover.  These pages can be used for whatever you choose but most couples opt to have an invitation page and a double-sided, perforated, RSVP "postcard".  Extra pages are then available as required.
What's Included
Of course, as with all of our designs, all of the wording will personalised.  As standard the cheque book style invitations include:
Matt or pearlised card front cover
2 Staggered & perforated pages printed onto matt or pearlised card
Matt or pearlised card back cover
Flat ribbon
A simple diamante or pearl
Shape & Size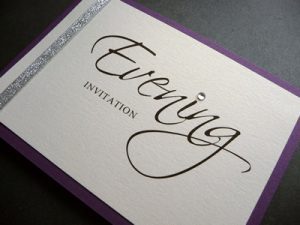 Our cheque book designs are DL size.  The covers measure 210 x 99mm.  Smaller A6 size cheque books are available as a matching evening invitation on request and these measure 148 x 105mm.
Create your own style
It is very easy to personalise the cheque book designs.  We offer a wide variety of cover and font style options which can easily be mixed and matched to suit your wedding theme and style.
Here are some ideas  but if you'd like something different then please let us know:
"Wedding Invitation" wording only – this can be placed in the centre or right aligned over to the side.  Infact you can have it set out however you like – just let me know.
You can have just your names and maybe your wedding date information on the cover.  The date format can be either written out in full like this: "Saturday 15

th

 July 2017" – with or without the day or shortened to 6 digits to look like this: "15.07.17".  Just let me know your preferences and I can prepare a sample for you to look at.
 It's also nice to have "Wedding Invitation" with your names and date underneath on the cover.  I really like it centred on the page with  a simple diamante or pearl underneath.
 "Mummy and Daddy are getting married …"is a lovely idea for a wedding invitation cover where you are involving your children in your marriage.  The RSVP "postcard" can be addressed to the children too so as they receive the replies when they're sent back.
 Instead of using your names you could opt to just have your initials instead.  This keeps the cover really simple.
 Foiled script covers are also available (with either silver or gold foiling) on a wide range of pearlised card colours.  The wording can't be changed but you can personalise these with different coloured ribbon and embellishments.
 Personalised plaques are a great way of adding further colour and detail to your invitation design.  The plaques are an optional extra and they do cost more – please check my price list for details.
 If you are having a "theme" for your wedding then let me know and I shall see how I can look at incorporating this onto your stationery for you.  Popular themes include butterflies, hearts, snowflakes and birdcages.
With a wide range of cheque book wedding styles to choose from feel free to mix and match ideas and of course, all colours, wording and fonts can be personalised.
Pick your favourite design here …
Visit our Cheque Book Design Gallery here.
I hope you found this blog post interesting.
Please feel free to get in touch or leave a comment if you'd like any more assistance or advice.