When planning your big day, one of the most important things to think about is your wedding dinner. You need an amazing selection of fab food that everyone will enjoy and will give them the energy to dance the night away later on.
But no matter how good the food will be, the menus, table names and place cards all have to look great too! This month we were invited to provide the wedding stationery for the gorgeous Oddfellows on the Park as they put on a taster event for couples who had booked the venue for their wedding.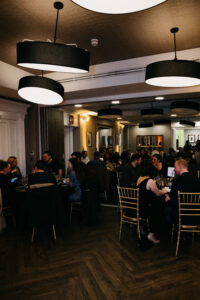 The event was a huge success! Alongside other small businesses, we showed off what we do, and how we help make weddings special. The lucky couples were able to browse our stationery and gave us some very positive feedback!
We always jump at the chance to attend an event like this or any local wedding fairs, as seeing our designs in person sells them better than pictures! It's also a great chance to network, not just with couples, but with other businesses in the wedding industry. Referrals help us grow, so we take the time to swap stories and build friendships with other business owners.
What we Created
Oddfellows is a fantastic venue with a distinct style that we worked hard to complement with our stationery. Couples should always keep the look of their venue in mind when choosing the perfect designs, as they can look different when set up properly!
All our wedding stationery had a black, white, and gold theme. White and gold are classic wedding colours and using contrasting black lettering made them really pop! As the icing on the wedding cake, we featured a stripe of real gold leaf on every piece.
The designs were simple and contemporary, but with Idodesigns subtle never means boring!
Table Plan
At the event, the first thing attendees saw was one of our table plan boards. We love having these on display as they show off the design in a big way (literally!). Small cards look fantastic, but blowing the design into a large welcome board gives us the space to really show off your style.
Some table plans have too much white space, which is usually the result of making a small design bigger, without making any changes. We design our welcome boards from scratch, so the wording and any accessories suit it perfectly.
As they are one of the first thing you and your guests see, along with welcome boards, they need to be eye-catching but not too busy. The title should be large, with the table listings smaller but still big enough to see from a few feet away. If your guests can find their table at a glance, it prevents any queues or confusion.
Table Names
Once guests know what table to look for, a clear table name card will draw them in, and table place cards will guide them to their seat.
Naming your tables is a fun way to make your wedding day even more special. Here are some popular ideas for wedding table names:
Numbers
Countries or continents
Hometown locations – places you have visited together perhaps
Animals
TV Shows or Movies
Books or Authors
Art or Artists
Songs or Bands
Photos of landmarks or of the couple themselves
And many more!
Any theme you can think of can be complemented with wedding table names. For gay weddings you can embrace the rainbow with different colours, which always looks amazing!
If you and your partner have a favourite film series or TV show, naming your tables after characters or scenes can be a lot of fun for you and your guests. Friends themed wedding table names are very popular!
Using places from where you and your partner grew up or spent time together add a lovely personal touch that will encourage some fun stories later on!
Whatever you choose, it is a great way to display your personality, and makes your special day memorable for everyone. The cards themselves can be simple, with only words, or you can choose to make them stand out by adding pictures and accessories.
Table Place Cards
Place cards don't allow as much creativity as table name cards, but their simple designs can still look fantastic. We work hard to create wedding stationery that is worth keeping forever, and place cards are no exception. Just a folded piece of white card isn't worth taking home, so we create designs that match your theme and are high-quality so they are keepsake-worthy and will look great for a long time!
Choosing the correct lettering is important when designing wedding stationery. Calligraphy may look great, but be tricky to read on a small card, whereas big block letters can look a little lazy. To help you find the perfect wording, we have a bespoke design service, so you can create the perfect stationery using existing ideas – or even something truly unique!
For our Oddfellows designs, we chose simple white cards with the iconic strip of gold we used on all our day stationery. Not only did this make the designs stand out but made sure that everyone who saw them knew that they were our creations.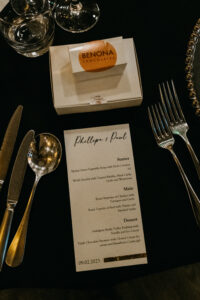 Menus
What's the point of a menu tasting if you don't have a menu to browse? When designing their menus, many couples choose a look that is purely functional. At Idodesigns, we believe that every piece of stationery deserves to look special and encourage couples to keep their theme consistent, no matter the purpose.
Think of it this way, your guests will spend more time looking at the menu than most of your other stationery combined! They are also a great test for your lettering choice, as there will be a lot of words close together.
We had some great feedback on our menus at Oddfellows, and the delicious food helped a lot!
Invitations, Day Stationery and so much more!
The event at Oddfellows was fantastic! We've listed the details of all the small business who contributed below, check them out!
All of our stationery is fully customisable using our bespoke design service, and you can order FREE samples of any of our designs to see them in person!
For more from us, you can browse our blog for more wedding stationery advice, info and stories from other events we've been to. Also, you can get in touch with any questions you have or begin your design journey with Idodesigns.
We look forward to hearing from you!
Venue – Oddfellows on the Park, Bruntwood, Cheadle, Cheshire
Gold Beaded Charger plates: Cheshire East | Ambience Venue Styling eastcheshire@ambiencevenuestyling.com
Table Centre Floral Arrangements : Samantha Parker foxandbloomfloralartistry@gmail.com
Chocolate Favours Benona Chocolates hello@benona.co.uk (10% discount for Oddfellows Couples)
Band DJ/Sax SIX15 Katie Knight katie.knight@six15events.com
Sing Along Waiters : hello@thesingalongwaiters.com
Photography: StellaPhotography stellaphotography@hotmail.com
Magician & Host – Sam Fitton – email@samfitton.com
Wedding Cake fs.frangipanecakes@gmail.com